Scoileanna ag 14 Sráid Henrietta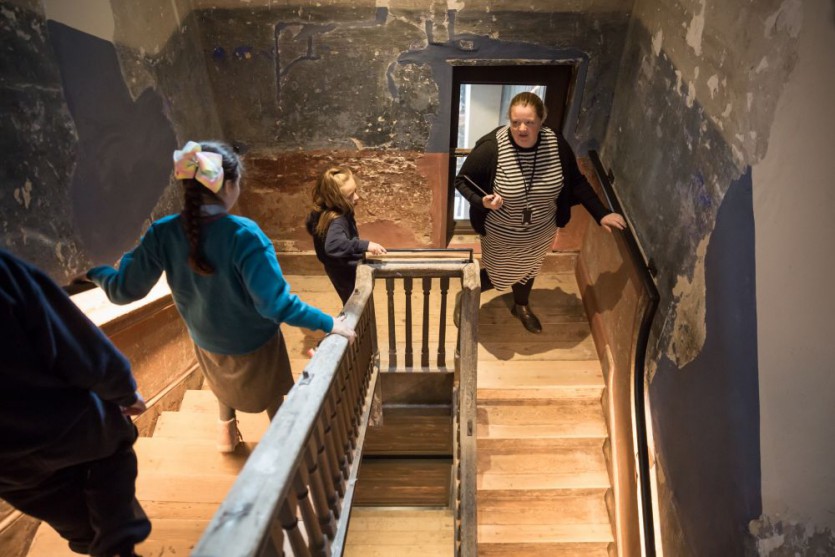 Nominated for European Museum of the Year 2020, 14 Henrietta Street is a social history museum that captures over 300 years of family and city life within the walls of one address. Guided tours bring visitors on a journey from the houses' grand Georgian beginnings to the tenement dwellings of its later years. Originally built in the 1720s for wealthy Dublin families, by 1911 over 850 people lived on the street, over 100 of those in 14 Henrietta Street.
By connecting to the personal stories and memories of the families who called 14 Henrietta Street home, the building's hidden histories are revealed. The stories of the house and the street mirror the story of the people and history of Dublin.
School Tours
We're delighted to once again welcome groups to the museum for School Tours. You can find out more information here.
Schools Resources
Last year, we created a set of Schools Resources for teachers in both primary and secondary schools, who would like to learn more about the history of the city. These resources use history as a starting point and provide an integrated exploration of the curriculum, with four different resource sets for the different school levels - primary school, junior cycle, transition year, and leaving certificate. 
The resources (which include videos, oral histories, and downloadable/printable PDFs) have been designed to be flexible and adaptable for all levels and age groups. These resources can be used in the classroom, or at home, and as an extra learning resource before or after a school visit to 14 Henrietta Street.
Page last updated: 25 February 2022