Primary Schools Teacher Resources
Playing Piggy Beds
Piggy Beds was a favourite street game for children in the tenements. Learn how to play it below.
You will need:
An empty tin of shoe polish or empty drinks can
Chalk
A flat outdoor surface
1. Make your piggy
Take an empty tin of shoe polish, or a drinks can, fill it with gravel or sand, and stamp on the top of it to make it a disc.
2. Draw the beds
Find an even surface outside, away from any traffic or dangers, and chalk out a grid that looks like this: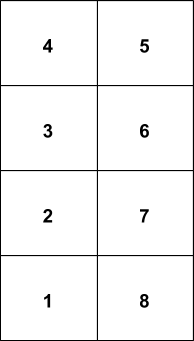 3. Play
Toss your piggy into square number one.
Stand on one foot, and hop into the square.
Kick your piggy into square number 2 - if it lands on the line, or goes outside the lines, you're out.
Hop into the next square. You're only allowed one hop per square, and one kick per square.
Keep going round the grid, and see if you can get all the way round without putting your other foot down.
Square number 4 and 7 are 'rest beds' - you can put your foot down here and have a rest.
Keep going all the way round to square number 1. Jump out and start again - throw the piggy into square number 2 and start again.