Tea & Chats
News
Published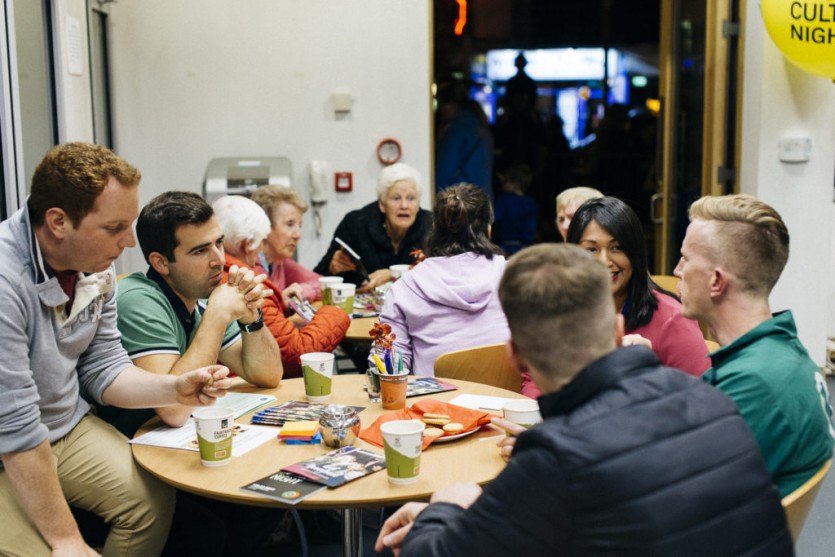 Join Us for Tea & Chats
Saturday 7 March | 11am-1pm
Put the kettle on! is the universal refrain to be heard several times a day in households across the land. It's what we say when we need the joyous ritual of a hot mug of tea to soothe souls, warm bodies, or just to take a few moments to ourselves in a busy day. It's also what we say when we we want to have the big chats, sad chats, calm-your-nerve chats, and the run of the mill how-are-you-getting-on, haven't-seen-you-in-ages and how-was-your-day chats.
At Dublin City Council Culture Company, our Tea & Chats is a really important ritual for us because it's when we get to throw open the doors in communities across Dublin and welcome locals to hear what's on their mind.
Tea & Chats first started in 2015 and Sandra Rodriguez, our Engagement Manager, sums up the initial aim of the sessions when she says:
"We wanted to listen to people and make their ideas happen."
Since then, we've been lucky enough to share a cup of tea with hundreds of community groups and individuals across Dublin and help make some incredible projects as a result.
Tea & Chats is now at the heart of everything we do and we're excited to run our next session in Richmond Barracks. We have a vision for Dublin where culture connects everyone and everything, and chatting with locals about what's important to them in the place where they live is the first step in making that happen.
Aalia Kamal, our Head of Engagement, describes Tea & Chats best when she says it's an: " … an ongoing conversation with the city."
So if you'd like to be part of that conversation, why not pay us a visit and join the next session? If you have thoughts you'd like to share about your area, or you're simply curious to hear what other locals have on their mind, we'd love to see you there.
Tea & Chats are always free of charge and no booking is required. For our next session in Richmond Barracks, we'll even have a Scavenger Hunt to keep little ones entertained in the garden.
All are welcome and you can drop in anytime from 11am to 1pm on Saturday March 7. We'll have the kettle on and the good biscuits ready.
Tea & Chats in Your Neighbourhood
Want to start a conversation? If you're part of a local community group and you have something you'd like to share, why not host a Tea & Chats session with us?
For more information or to arrange a Tea & Chats in your area please contact our team on teaandchats@dublincitycouncilculturecompany.ie