A Day for Memories at 14 Henrietta Street
News
Stories
Published 04 May 2022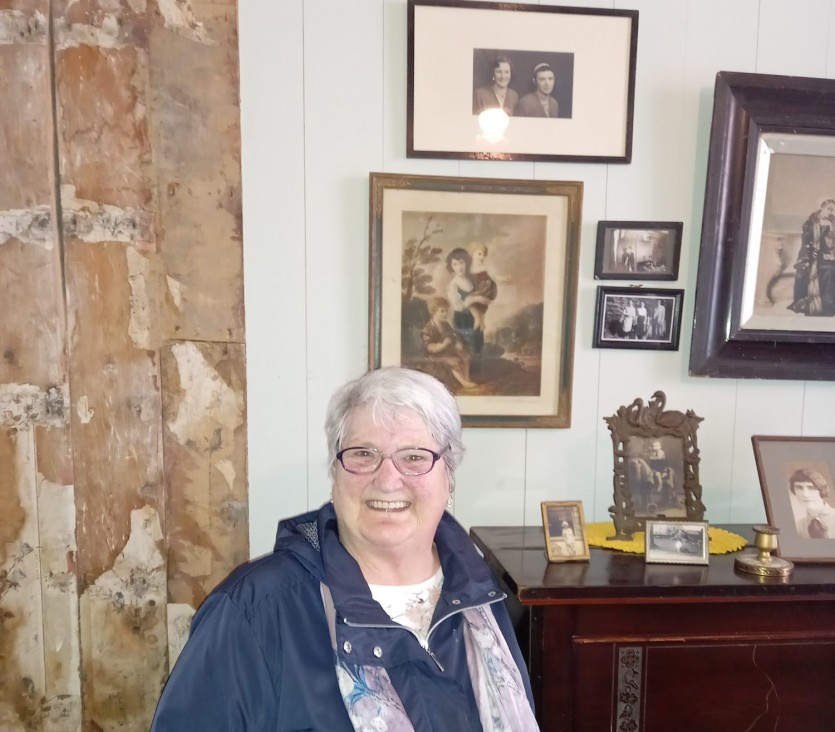 Picture: June  Keely Tonge standing beneath the photo of her (L) and Lily Dowling (R), taken when they were teenagers.
The sun shone down on Henrietta Street all day yesterday (Tuesday 3 May, 2022), and with the door wide open, we were excited to begin Your Tenement Memories with a queue of people down the street.
Our team of engagement coordinators and tour guides had the kettle on the go all day, and went through several boxes of biscuits as they welcomed people to number 14. We were delighted to welcome over 150 people through the door yesterday, and hear their stories of life in the tenements.
We recorded over 65 written recollections which are now records of primary history that will be carefully preserved by the museum team. They might inform the museum experience or programming of Teatime Talks or Mondays at the Mess. They might be consulted when historians are writing their books. You always have the option to be anonymous, and we treat your stories with the utmost of care. The main thing is that these memories are preserved for future generations.
Common threads
On days like this, some common threads sometimes emerge and yesterday we heard lots of stories about mams and mothers. We heard about resourceful women who ran households, kept families together and shaped the sense of community in the tenements. Ahead of their time in many ways, and fiercely protective of their loved ones, they often made decisions that would be at odds with the social norms of the time but for the good of their families.
This resonated with Tour Guide Gillian Ryan in particular, who said "I made sure I wrote down the name of every one of those mothers, and what floor they lived on so that record exists and will be there forever now."
June Keely Tonge was one of the visitors to the house yesterday, and discovered a picture of herself on the wall of Mrs. Dowling's room. June and Lily Dowling were best friends when they were young and next door neighbours. June, accompanied by her daughter, also met some of the O'Callaghans (neighbours from the farside) and they all reminisced together about their time living on Henrietta Street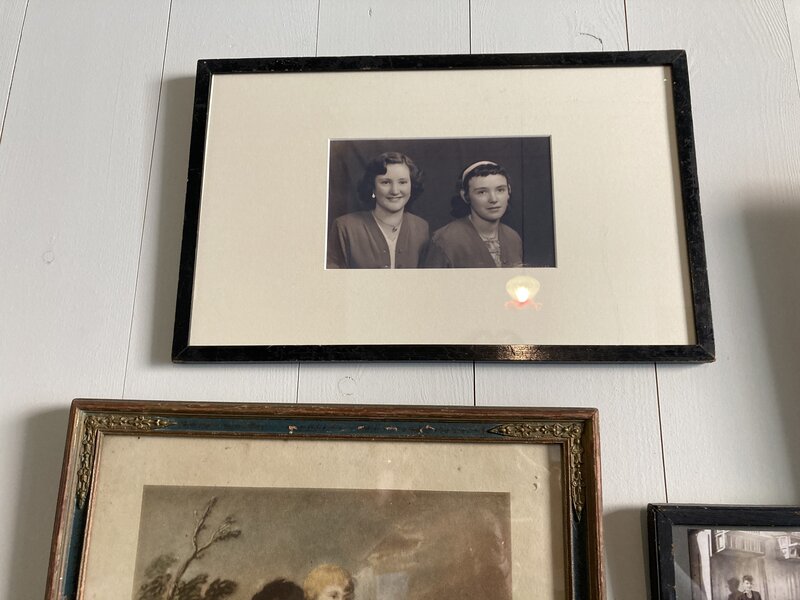 We also heard about the "Henrietta Street spirit" that former residents can see in their children or grandchildren - the thread of strength, determination and resilience that was forged in the tenements and passed down through the generations.
Everyone has a story
People came with their families, brothers and sisters, neighbours and on their own. They shared stories they might have told to family many times, or they shared stories they've never told a soul before now.
There were good humored, tender, funny, and sad stories, and some difficult ones too. A few tears were shed as well as laughs had. After a day full of chatting and listening, the team reflected on a day of memories being shared.
Engagement Coordinator Tracey Bardon put it well when she said, "We always feel humbled when we're being told these stories."
If you or someone you know has memories of tenement life, we'd love to hear from you. Next week (Tuesday 10 May), we're heading to Cabra library for another Your Tenement Memories session and we have lots more dates and locations planned in May and June. You can take a look at all the upcoming sessions here.
You can drop in at anytime during the time slot, but if you'd like to chat to the team beforehand you can contact Tracey Bardon via memories@14henriettastreet.ie or calling 01 524 0383.
---
Your Tenement Memories
Your Tenement Memories is a series of ongoing conversations and events with people across the city that gathers memories of tenement life in Dublin for 14 Henrietta Street.
The Culture Company's previous work collecting and preserving stories of the lives of Dubliners through tenement times has been recognised internationally for community participation and inclusion with its awards of European Heritage Days (Council of Europe 2019) and the prestigious European Museum of the Year (Silletto Prize 2020). Your Tenement Memories is supported by the Heritage Council under its Heritage Capacity Fund 2022.
By listening and learning, we preserve and share stories and connect people to the heritage of our city.