Dublin Festival of History 2023 Events in 14 Henrietta Street
News
Stories
Published 30 August 2023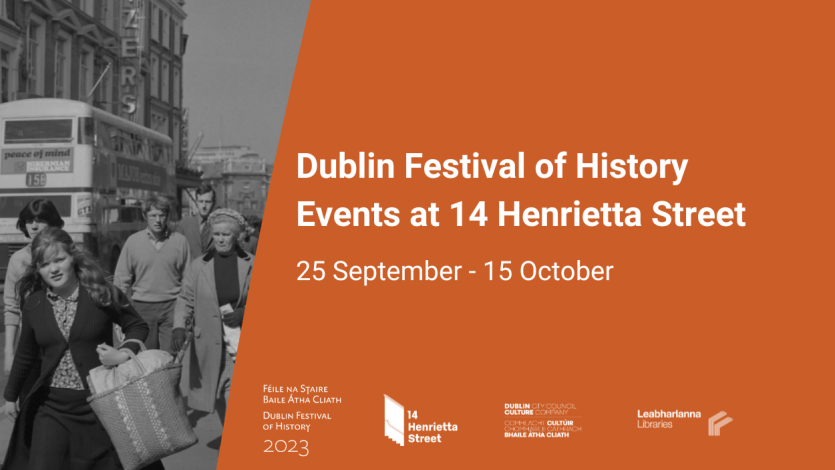 This year's Dublin festival of History will run from 25 September to 15 October 2023, with our Big Weekend at the Printworks, Dublin Castle from Friday 29 September to Sunday 1 October.
The Dublin Festival of History is an annual free festival, brought to you by Dublin City Council, and organised by Dublin City Libraries, in partnership with the Dublin City Council Culture Company.
Now in its eleventh year, the festival has built a reputation for shining a fresh perspective on history and its importance in our everyday lives, attracting best-selling Irish and international historians to Dublin for a high-profile programme of history talks and debate each Autumn.
A list of the Dublin Festival of History events taking place at 14 Henrietta Street is below.
Lindie Naughton - Herbert Simms: An Architect for the People
When: 1 pm, Monday 2 October
Lindie Naugton's forthcoming engaging and accessible overview of the history of public housing in Dublin has at its centre the remarkable achievement of Herbert Simms. During his time as city architect from 1932 to 1948.

Book your tickets here
---
Turas 14 Sráid Henrietta
When: 3 pm, Monday 2 October

Tugann ár dturais threoraithe phearsanta thú ar aistear ó thús galánta Seoirseach an tí a fhad leis na háiteanna cónaithe tionóntáin a bhí ann ina dhiaidh sin. Nochtar na scéalta faoi stair cheilte an fhoirgnimh nuair a dhéantar ceangal le scéalta pearsanta na ndaoine siúd a chónaigh anseo in 14 Sráid Henrietta.

Book your tickets here
---
Living The Lockout and After: ANU Productions with Louise Lowe
When: 1 pm, Monday 9 October 2023

In 2013, ANU Productions presented 'Living the Lockout' in 14 Henrietta Street. For many, this was a first engagement with the museum space. Since then, ANU Productions have been a central force in the Decade of Centenaries in Dublin. Louise Lowe from ANU will discuss all of this with Tracey Bardon from 14 Henrietta Street.

Book your tickets here
---
Irish Sign Language: ISL Guided Tour of 14 Henrietta Street
When: 3 pm, Monday 9 October 2023

This tour will be delivered exclusively in ISL. When you enter 14 Henrietta Street you'll experience over 300 years of city and family life in the walls of one address. Our intimate guided tours bring you on a journey from the house's grand Georgian beginnings to the tenement dwellings of its later years. See the house, reveal its stories and discover the layers of Dublin history within its walls.

Book your tickets here
---
 Industrious poor and strolling vagabonds
When: 5 pm, Monday 9 October 2023
An exploration of attitudes and responses to poverty in eighteenth century Dublin by Francis Thackaberry. The citizens of prosperous Georgian Dublin associated poverty with idleness, disease and moral decay and sought ways to prevent 'foreign' vagrants from 'infesting' the city. One response was to find Dublin's first tax funded workhouse in James's Street in 1703.
---
Peter Sheridan: On Behan, On Dublin
When: 6 pm, Wednesday 11 October 2023
2023 marks the centenary of the birth of the writer Brendan Behan. In 2000, Peter Sheridan directed Borstal Boy, inspired by Brendan's 1958 memoir. Sheridan has continued to engage with the life and work of Behan since and was instrumental in bringing Behan to the stage again for that. In this conversation, Sheridan will discuss his engagement with the work of Behan and his career more broadly.

Book your tickets here

---
The full programme of events is available online at www.dublinfestivalofhistory.ie and from libraries throughout Dublin city, and from the Festival's partners.