Evenings at 14 Henrietta Street: Poetry and Place
News
Stories
Published 08 September 2023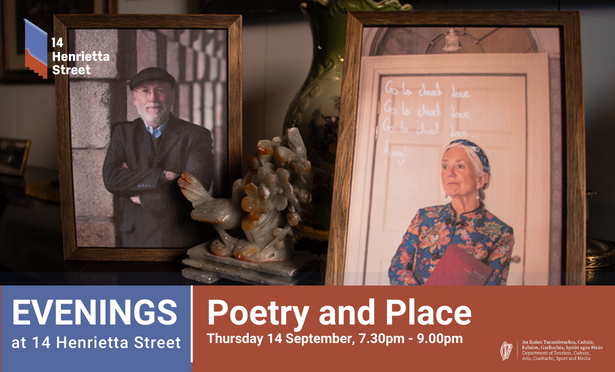 When: 7:30 pm Thursday, September 14
Where: In person at 14 Henrietta Street
Cost: €5 / €3 concession
Dermot Bolger, Geoff Finan, Mick Foran, Evan Musgrave, Paula Meehan and Kerrie O'Brien come to 14 Henrietta Street on Thursday 7:30 pm, 14 September to share poems about and inspired by the stories of home, of community and of vibrant inner city life.
Our building contains over 300 years of city life in the walls of one address. The walls themselves are a significant part of our collection.
If the walls could talk, we like to think that amongst the many stories they'd share would be tales of home, of community, and of vibrant inner city life.
This intimate evening will see a selection of some of Dublin's finest poets share poems about these themes in the setting of 14 Henrietta Street.
---
Evenings at 14 Henrietta Street is a series of cultural events bringing the history of the house to life. This project is in support of the Night-Time Economy After Hours at the Museum scheme. We thank The Department of Tourism, Culture, Arts, Gaeltacht, Sport and Media for their support.