Join us for our February Teatime Talk: The makings of the people's game - Football in Dublin
Stories
Teatime Talks
Published 14 January 2021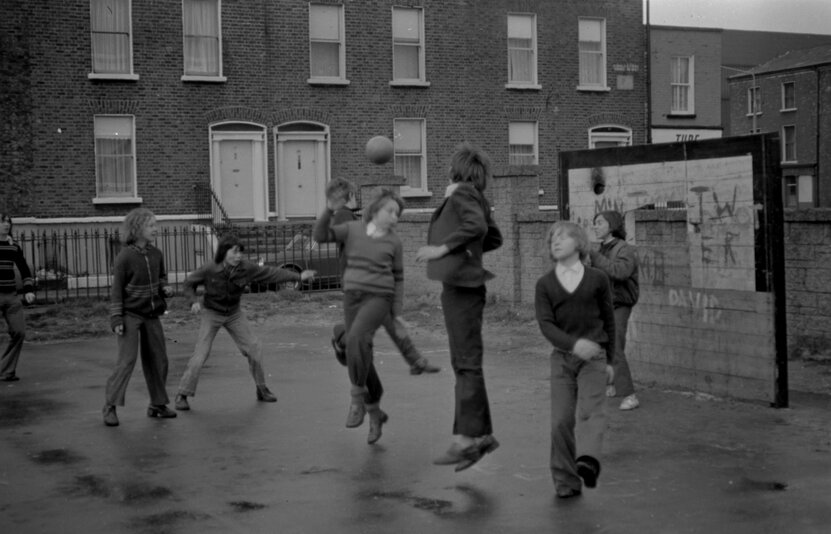 Join us for our February Teatime Talk
For our February Teatime Talk, we're delighted to invite Gerard Farrell of the Bohemian Foundation to give an online talk about the history of football in Dublin. 
Read on below for more details and to book your place for this free talk.
Teatime Talk: The makings of the people's game - football in Dublin 1880 -1970
When: Wednesday 10th February at 7pm
Where: Online via Zoom
In this free online talk, Gerard Farrell of the Bohemian Foundation talks about one of Dublin's most popular pastimes.
Initially emerging as a minority pursuit in the city's elite schools and universities in the 1880s, football in Dublin enjoyed spectacular growth as both a game to be played and one to be watched and enjoyed. By the early 20th century soccer began to enjoy mass popular appeal, due in many ways to its easy accessibility. All you needed was a ball (often fashioned out of rags or balled up newspapers) and a pair of jumpers for goalposts and the streets of Dublin were the pitch.
This is the story of Dublin and how it grew to love the beautiful game.
Gerard Farrell
Gerard Farrell is a Dublin based football enthusiast and historian with an interest in League of Ireland, the Irish National Team, and the wider social significance of the game. He runs the "A Bohemian Sporting Life" blog and podcast and also contributes to the Bohemian FC website and programme, the Irish national team match programmes, the official League of Ireland website and various other football websites, journals and publications.
How to join us online
The talks will take place online using Zoom, a free online meeting platform. You will need an internet connection and a compatible device (e.g. computer, laptop, iPad, tablet, phone) to access Zoom.
Please note, the Zoom link to the talk is contained in your confirmation email. If you have any queries, please don't hesitate to contact us by calling +353 1 524 0383.
Teatime Talks
Teatime Talks is a series of talks inspired by the history, people and surroundings of 14 Henrietta Street. By listening and engaging with historians, experts, former tenement residents, local residents and their families, we continue to uncover and record the history and stories of 14 Henrietta Street. Do you have a memory of Dublin's tenements or know someone who does? Whatever your connection, we would like to hear from you. 
---