July Teatime Talk: The 1963 Tenement Crisis
Stories
Teatime Talks
Published 29 June 2023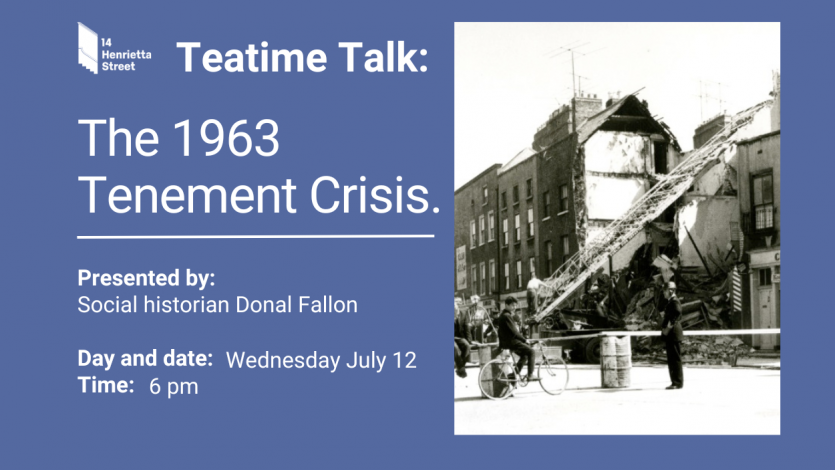 When:  Wednesday, July 12
Where:  In person at 14 Henrietta Street
Cost: €5 / €3 concession
14 Henrietta Street presents Teatime Talks, a series of talks hosted by social historian Donal Fallon, inspired by the history and people of 14 Henrietta Street.
Sixty years ago, as Ireland was on the verge of a U.S Presidential visit, housing conditions in Dublin became the big story once more. Fifty years on from the 1913 tenement collapses which triggered a housing inquiry in the city, houses collapsed on Bolton Street and Fenian Street with the loss of four lives. In the aftermath, Dublin housing was transformed forever, with the removal of hundreds of Georgian buildings in the city centre core and the emergence of new housing solutions like Ballymun. In this talk, Donal Fallon will explore the tragedies of 1963 and their long-term impacts.
---
Donal Fallon is a historian, broadcaster and curator from Dublin. He is the social historian for Dublin City Council Culture Company and the author of numerous studies of twentieth-century Dublin, including 14 Henrietta Street: From Tenement to Suburbia. He produces the Three Castles Burning podcast.
This talk will take place in person on the 1st floor of the Museum and can be accessed via lift.
If you have any queries please don't hesitate to contact us on +353 1 524 0383 or email us at info@14henriettastreet.ie.