March Teatime Talk: 'Thomas Bryan of 14 Henrietta Street - one of the Forgotten 10 of the War of Independence'
Teatime Talks
Published 10 February 2021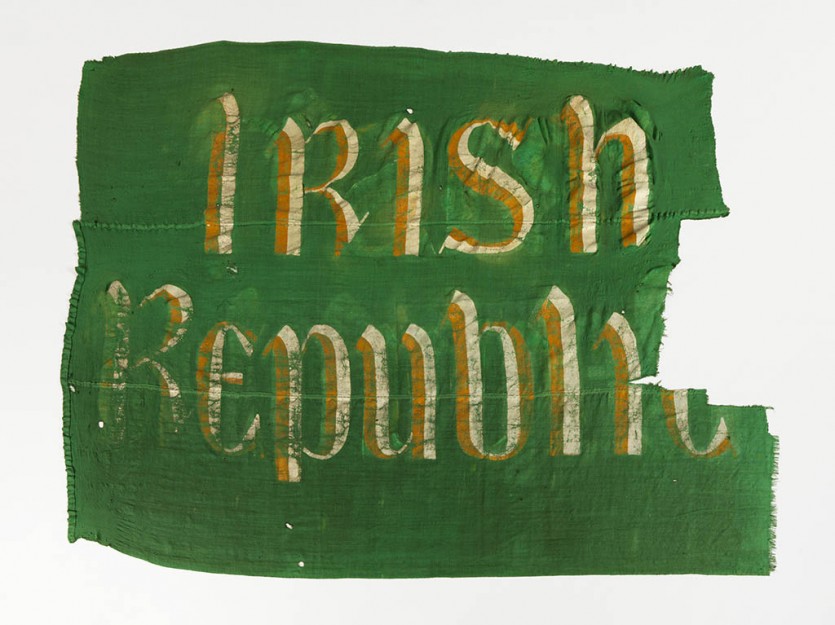 Join us for our first March Teatime Talk
Image:  The Irish Republic flag which flew over the GPO in 1916, courtesy of the National Museum of Ireland.
We are delighted to welcome 14 Henrietta Street Tour Guide, Colin Ring, to give an online talk on the evolution of workers housing in the 'Thomas Bryan - one of the Forgotten 10' of the War of Independence'.
Read on below for more details and to book your place for this free talk.
Thomas Bryan - one of the Forgotten 10 of the War of Independence
When: Wednesday 10th March at 7pm
Where: Online via Zoom
This month's first Teatime Talk, by 14 Henrietta Street tour guide Colin Ring, marks the centenary of the death of Thomas Bryan, whose family lived at 14 Henrietta Street. Bryan was executed in March 1921 in Mountjoy Gaol, after being found guilty of high treason for taking part in an ambush on British troops as they travelled to Dublin. Bryan was 24 years of age and had married just four months before his arrest.
Bryan is considered one of the 'Forgotten 10', along with Kevin Barry, Patrick Moran, Frank Flood, Thomas Whelan, Thomas Traynor, Patrick Doyle, Edmond Foley, Bernard Ryan, and Patrick Maher. These men were executed by British forces in Mountjoy Prison during the War of Independence and all were buried in unmarked graves.
Book your place for this free online talk.
---
Teatime Talks is a series of talks inspired by the history, people and surroundings of 14 Henrietta Street. By listening and engaging with historians, experts, former tenement residents, local residents and their families, we continue to uncover, record and preserve the history and stories of 14 Henrietta Street and Dublin City. Do you have a memory of Dublin's tenements or know someone who does? Whatever your connection, we would like to hear from you.