Our playground was the street
Stories
Teatime Talks
Published 27 January 2021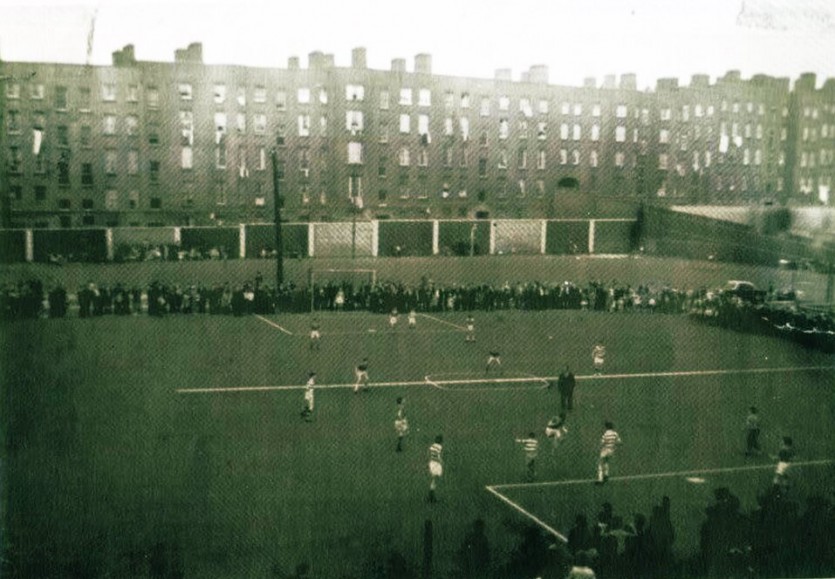 Our playground was the street
At 14 Henrietta Street, we are dedicated to collecting the memories and stories of life in the house and on the street and in other Dublin tenements. These recollections from former residents allow us to share the social history of Dublin through the museum.
A topic that often comes up when we speak to people is the memory of football as an important, often joyful part of life in tenement times. A true egalitarian game, football was suited to the urban environment and enjoyed mass appeal in the city by the early 20th century.
That's why we're delighted to welcome Gerard Farrell of The Bohemian Foundation to give our next online Teatime Talk: The makings of the people's game - Football in Dublin 1880 -1970 on Wednesday 10th February.
For many inner city kids in Dublin, days were spent on the street with friends playing football. Sometimes a proper football wasn't to be had, so one was made from rags or balled up newspapers. With jumpers down for goalposts, the street suddenly became a pitch
Tarmac tournaments
Tony Comiskey, from North Great Charles Street recalled football-filled days with friends:
"... the days during the summer holiday you'd go out at ten in the morning after your breakfast and summon all of the lads around, you know? Even some of the girls and you'd pick two sides, and it could be 10 on a side, it could be 15 on a side, depending on who turns up and you'd start at 10am and you'd be kicking away and you'd be up to 20 goals at this stage and that wouldn't matter ... And then you'd let a shout 'I'm going home for sugar sandwich' … or a jam sandwich, whatever the case was and the match continued and you'd go home and you'd get this and you'd have your drink and then you come back and then someone else goes off and they're going off at different times and they used to run all day until you were called in for bed that evening ... the football went on forever."
We've heard stories too of the Gloucester Diamond. Located at the corner of Gloucester Place and Seán McDermott Street, it was a tarmac pitch and the scene for many epic games of street football. Those living in the tenements that surrounded it had the best view for the 7-aside tournaments that often included League of Ireland players and a young Eamon Dunphy, who loved to play there during time away from Manchester United. (Dunphy still credits street football as a major contributing factor in developing technically skilled players.)
Perilous play
But, like some of the stories we hear of the tenements, the love of street football was not a simple story of joy for everyone. The police sometimes used to break up children's games on the streets and we've heard that some children were taken to industrial schools as a result.
We're grateful, as always, to those who share their stories with us - the joyful ones and the difficult ones. As football is such a prevalent topic that former residents of inner city Dublin shared, we're looking forward to welcoming Gerard Farrell of The Bohemian Foundation to give the next online Teatime Talk: The makings of the people's game - Football in Dublin 1880 -1970 on Wednesday 10th February.
A Dublin-based historian and football enthusiast, Gerard will explore the beginnings of soccer as a minority pursuit in the cities private schools and universities in the 1800s to its explosion in popularity by the early 1900s.
Teatime Talks
Teatime Talks is a series of talks inspired by the history, people and surroundings of 14 Henrietta Street. By listening and engaging with historians, experts, former tenement residents, local residents and their families, we continue to uncover and record the history and stories of 14 Henrietta Street.
Do you have a memory of Dublin's tenements or know someone who does? Whatever your connection, we would like to hear from you.
---