Recruitment: Open Call for Panel of Tour Guides
News
Stories
Published 23 August 2023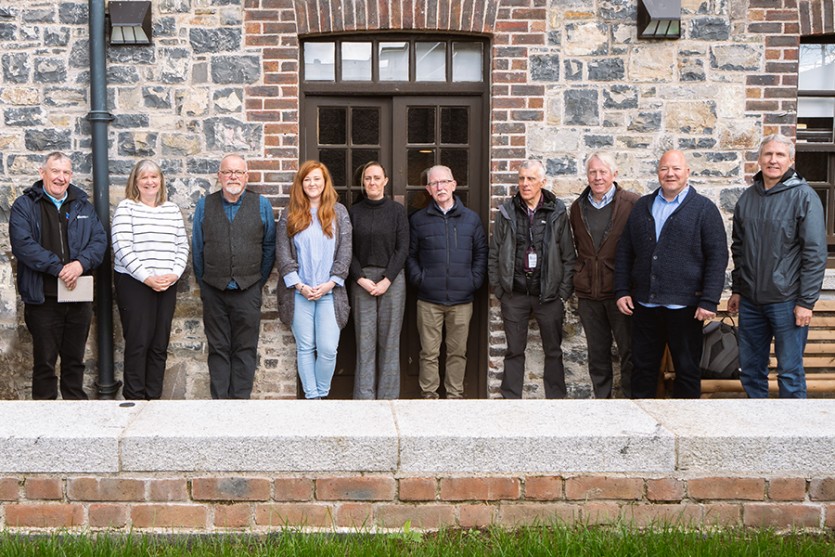 Dublin City Council Culture Company is seeking to add to our panel of Tour Guides for 14 Henrietta Street, Richmond Barracks, our engagement programmes and associated venues.
Closing date for applications: Monday 11 September 2023.
If you like the idea of helping our visitors to feel a sense of connection with the stories of Dublin, we want to hear from you. Come join our team, the details of how to apply are included below.
About the panel
We are seeking additional members to our panel of tour guides. We currently run and operate tours at 14 Henrietta Street and Richmond Barracks, and facilitate cultural events, discussions and projects across a range of engagement programmes.
Through our sites and programmes our tour guide aims are to:
Share and tell stories by retelling the story of the lives of the people
Engage and make connections by listening and talking with visitors, citizens, historians, local residents, former residents and their families
Discover and uncover history by continuing to learn from the memories and knowledge of others
The ideal candidate will be a warm and natural storyteller who can help us bring to life the stories of the people who passed through our buildings, and should demonstrate a strong interest, knowledge, or expertise in relevant subjects such as social history, conservation, heritage, community development, arts and culture.
We would be interested to hear from anyone who can demonstrate the necessary interest, skills and experience as per the requirements detailed below. We encourage applications from individuals from varied and diverse backgrounds and experience.
About how the panel works
All members of this panel are included as individuals or as sole traders and can be offered long term or short term contracts for service by the company when or as a need arises. If you are appointed to a panel you have the option to either accept or decline work or contracts when they are offered. Being on this panel does not guarantee that you will be offered work available to this panel.
Project work when it is offered is either part-time or full time short term and all projects or work is paid. Once appointed to the panel, you will be trained into the project if offered, training days are paid. We offer via a monthly roster system. Shifts can range between 2 and 8 hours long. Additional time may be added to these shift variations.
Members of the panel may be offered hours depending on how busy the schedule is, monthly in advance. Shifts may extend beyond standard office opening hours for private events or evening programming.
Project requirements
The ideal person for this project will be able to demonstrate the following:
Essential
A strong interest, knowledge, or expertise in relevant subjects such as social history, conservation, heritage, community development, arts and culture
Relevant experience of working in a customer-facing environment
Excellent communication, interpersonal and storytelling skills
An adaptable, open and confident personality
A willingness to be a team player and work flexibly
Desirable
Previous touring guiding experience or a qualification in an arts or history related field
A competent level of computer literacy
Experience with smart rota software
The tour guide project includes:
Welcoming visitors
Conducting guided tours, walking tours and other tours
Hosting and facilitating engagement events and talks, both online and in person
Operating audio visual or other appropriate equipment to support tours or events
Assisting the team in preparing for and facilitating events in our buildings, both during and outside of opening hours
Ensuring that any rules for visitors are observed and being responsible for your own and visitor security and safety at the site
Important contracting details:
Project work offered to Tour guides on the panel will be contracted via a Contract for Service;
Appointment to the panel is for a period of two years. Panels may be extended on discretion of the Company.
No invoices will be paid without proof of tax clearance, and/or VAT registration number where applicable.
The award of a Contract for Service for any project does not confer exclusivity on the successful panellists.
Garda clearance may be required by Dublin City Council Culture Company and Contractors will be advised of this as required.
How to apply
Applications are now invited from applicants who meet these published requirements. Applications must include the following:
CV (including the names and contact details of two referees)
A one-page cover letter citing your specific skills, knowledge and experience relevant to the project specification and requirements.
Completed applications should be sent by email only to recruitment@dublincitycouncilculturecompany.ie with "Tour Guide" in the subject line. Applications received after the closing date and time will not be accepted.
Closing date for this application is Monday 11 September 2023.
The information supplied in your application will be reviewed against the requirements set out in this notice by a panel. Dublin City Council Culture Company reserves the right to shortlist applicants and/or call people for an interview. It will not be possible to provide application process feedback to unsuccessful applicants.
Garda vetting is mandatory for successful applicants, and you must be cleared by the National Vetting Bureau before the work can commence. The successful applicant will also be required to attend Child Protection and Disability Equality Training.
Please note that Dublin City Council Culture Company is committed to developing policies and practices ensuring that accessibility, Universal Design and reasonable accommodation for people with disabilities are taken into account. Dublin City Council Culture Company is an equal opportunity employer. Please see our Equal Opportunities Policy here.
Please note that both the museum at 14 Henrietta Street and Richmond Barracks are Part M access compliant, and the offices of Dublin City Council Culture Company in both have limited physical access. Reasonable accommodation of access requirements will be made for successful applicants.
Interviews will take place in an accessible location. We are committed to respecting and protecting your privacy. We keep several kinds of personal data about our prospective employees so we can manage the recruitment process effectively and efficiently and meet our legal obligations. Please see our Privacy Notice for Job Applicants here.