Remembering Thomas Bryan
Stories
Published 05 March 2021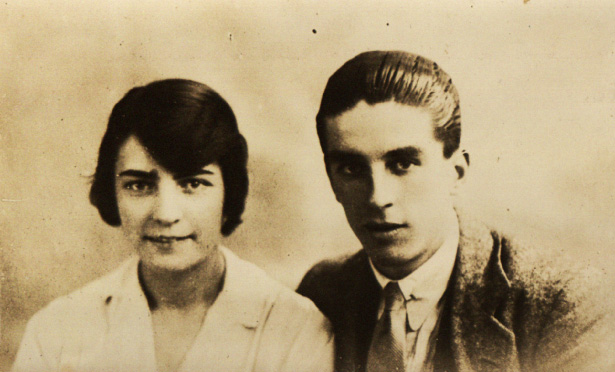 Image reproduced with the kind permission of the National Museum of Ireland.
14 Henrietta Street is delighted to welcome historian Donal Fallon to write a series of blog posts about the building and its rich and varied history.
Today, Donal considers the history of Irish revolutionary, Thomas Bryan.
If you'd like to learn more, we're hosting a free online Teatime Talk on 10th March - Thomas Bryan - One of the Forgotten 10 of the War of Independence, with tour guide Colin Ring. You can book your place here.
---
The Forgotten Ten
The Irish revolution impacted on the residents of Henrietta Street in a variety of ways, but 14 Henrietta Street is forever linked to the War of Independence story through the death of Thomas Bryan, a 24 year old electrician executed for his involvement in the IRA in March 1921, whose family lived at 14 Henrietta Street.
Bryan was one of the 'Forgotten Ten', IRA Volunteers whose bodies were removed from Mountjoy Prison in 2001 and reburied, primarily at Glasnevin Cemetery. The ten included young Kevin Barry, a teenager at the time of his hanging, who was anything but forgotten. The Ballad of Kevin Barry would, in time, be performed by acts as diverse as Paul Robeson and Leonard Cohen.
For Bryan, the term forgotten was more fitting. In recent years his name has been brought to some prominence thanks to the television series Who Do You Think You Are?, and the discovery that Bryan is a relation of pop singer Boy George.
Thomas Bryan was a member of the Active Service Unit of the IRA in Dublin, where the War of Independence was fought in a very different terrain from that in rural Ireland. The creation of the IRA's Active Service Unit in Dublin was a landmark moment in the conflict. As James Harpur recalled, "it was the intention of the Army Council to increase the activities of the IRA and to counter increased British activities in Dublin, and to this end the Active Service Unit was being formed." Harpur recounted being addressed by Oscar Traynor, and "he informed us that the British were becoming a bit too 'cocky' in the city and were being allowed too much freedom of movement to carry out their policy of subduing the population, and that it had been decided to counter this activity on their part by giving them battle on our own ground."
It was dangerous and stressful work; ASU member Patrick Collins recalled Traynor telling the men, "if any man felt that the work now or in the future would cause him too great a strain he was free to withdraw at any time without any reflection on him."
21 January 1921
On 21 January 1921, Bryan was amongst a group of young IRA men who set out to ambush Black and Tans as they travelled into Dublin city from Gormanstown. The youth of the men involved is worth noting - the youngest, Frank Flood, was a nineteen year old student from the National University - none were yet thirty years of age.
Dermot O'Sullivan, a surviving participant, recounted the events of that day in his Bureau of Military History Witness Statement:
On the 21st January, 1921, No. 1 Section was detailed to take up positions at Binn's Bridge, Drumcondra, at 8.30 a.m. and to ambush a party of Black and Tans which usually came into the city at that time from Gormanstown...
…The Section Commander's instructions for the attack on the Tan lorry were that the lorry was to be allowed to pass through our first pair of men and when it came in line with the -pair located on the north side of Binns Bridge they were to open fire on it. We were all to fire simultaneously likewise when it came abreast of our positions. The entire Section remained in position until 9.30 and as no Tan lorry came our way within that time the Section Commander decided to withdraw to a position further down the Drumcondra Road in the vicinity of Clonturk Park.
The detection of the IRA men in the area by a passing police man created a dilemma, and the DMP man continued on his way, no doubt altering authorities. O'Sullivan recalled their decision to attack a military van which approached from the Whitehall direction.
O'Sullivan's Witness Statement tells us:
Almost simultaneously with the arrival of the van we noticed that an armoured car and a few lorries of military were coming in our direction from the city and another armoured car and some lorries were also approaching our position from Whitehall direction. It was clear to us then that someone must have summoned the aid of the military and Tans as the place seemed to be surrounded. We saw there was nothing for it but to get out as quickly as we could, so we made our way down Richmond Road in the direction of Ballybough with the intention of cutting across country towards Clontarf. As we reached the junction of Gracepark Road we saw two tenders of Black and Tans approaching us from the Ballybough direction. We wheeled up Gracepark Road and into Gracepark Gardens. At that time Clonturk Park was open country. A Lewis gun which had opened fire at some of our section crossing Clonturk Park (which was not then a built-up area) could have brought us under fire. In fact, one of our men, McGee, was killed as he was trying to get away.
Hopelessly surrounded, most of the remaining men surrendered.
Remembering
O'Sullivan lived to tell that tale, his life being spared on the basis of his youth, though one could hardly consider Bryan and his comrades old men. Four of the party which participated in the planned ambush were executed on the 14 March 1921.
They were:
Patrick Doyle, aged 29
Francis Xavier Flood, aged 19
Thomas Bryan, aged 24
Bernard 'Bertie' Ryan, aged 21
These men, found guilty of High Treason, were hanged at Mountjoy Prison. Bryan was only recently married, and correspondence in his pension application, submitted by his grieving family, reveals the poverty in which his parents continued to live at 14 Henrietta Street in the aftermath of his death.
If you'd like to learn more about Thomas Bryan and his story, you can join our free online Teatime Talk on 10th March. Book your place here.
---
Donal Fallon
Donal Fallon is a historian, broadcaster and curator from Dublin. Formerly Historian in Residence to Dublin City Council, he is the author of numerous studies of twentieth century Dublin, including The Pillar: The Life and Afterlife of the Nelson Pillar (New Island, 2013). He produces the Three Castles Burning podcast and has contributed to publications including Jacobin, Dublin Historical Review, Saothar and The Irish Times. He is a graduate of Maynooth University, University College Dublin and the Ulster University, and lectures with the Lifelong Learning department of University College Dublin.