Teatime Talk: Apprenticeship to Revolution: Dublin's workers and the 1798 Rebellion
News
Teatime Talks
Published 11 May 2023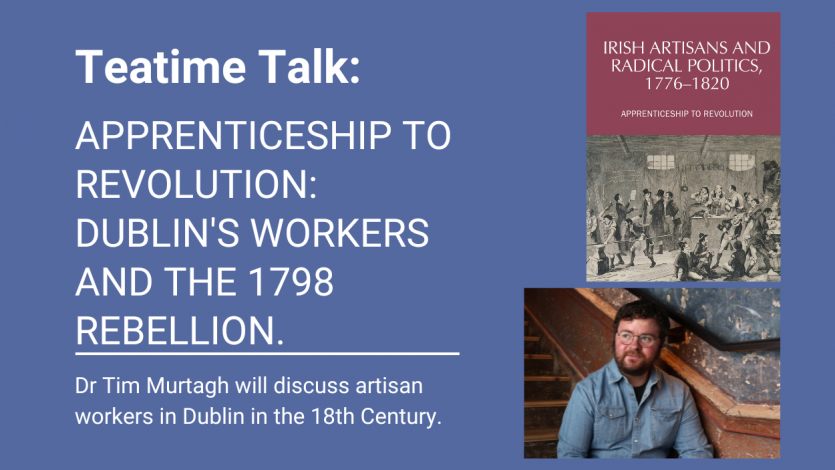 When: Wednesday June 14 at 6:00 pm
Where: In person at 14 Henrietta Street
Cost: €5 / €3 concession
14 Henrietta Street presents Teatime Talks, a series of talks hosted by acclaimed social historian Donal Fallon, inspired by the history and people of 14 Henrietta Street.
By the summer of 1798, Dublin was the centre of a conspiracy to overthrow British rule in Ireland. While the city was prevented from rising as part of the Rebellion of that year, Dublin nonetheless contained a formidable army of radical workers. In the years running up to 1798, the United Irishmen had recruited the working tradesmen and labourers of Dublin to create a powerful revolutionary underground. This talk will discuss how this revolutionary movement was created, how it was destroyed, and what its legacy was for Dublin's larger history of republicanism and labour politics.
Timothy Murtagh completed his PhD at TCD in 2015. His doctoral thesis was on Dublin's working-class radicals in the eighteenth century. He is the author of "Spectral Mansions, The Birth of a Dublin Tenement' (Four Courts Press) and several articles and book chapters on Dublin's social history and the origins of Irish republicanism. From 2015 to 2016, he was the Irish Government Senior Scholar to Hertford College, Oxford. Since 2015, he has acted as a historical consultant to the 14 Henrietta Street Museum, as well as being a committee member of the Dublin Historical Research Network.
---
This talk will take place in person on the 1st floor of the Museum and can be accessed via lift.
If you have any queries please don't hesitate to contact us on +353 1 524 0383 or email us at info@14henriettastreet.ie.