5 Henrietta Street and Uinseann MacEoin
Stories
Published 09 June 2020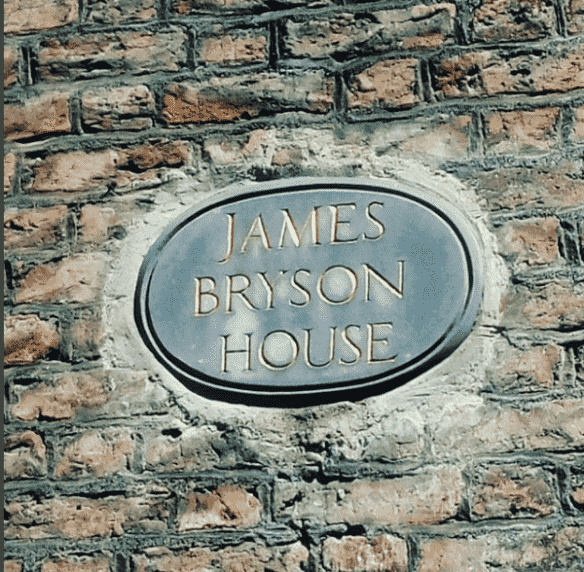 5 Henrietta Street and Uinseann MacEoin
14 Henrietta Street is delighted to welcome historian Donal Fallon to write a series of blog posts about the building and it's rich and varied history.
Today, Donal considers the history of number 5 on the street.
History of 5 Henrietta Street
Opposite 14 Henrietta Street is James Bryson House, the name bestowed upon 5 Henrietta Street by Uinseann MacEoin, who together with his wife Margaret was instrumental in bringing new focus to this street in the 1960s and 1970s. An architect, historian and activist born in county Tyrone in 1920, MacEoin was a tireless fighter for the heart and soul of Dublin's inner-city in the second half of the twentieth century.
5 Henrietta Street was built around 1740, by Nathaniel Clements for Henry, 8th Earl of Thomond. By the second half of the twentieth century, such names were long forgotten on this street. MacEoin, who had been editor of the instrumental Plan magazine, which rallied against poor planning at city level, and was once described by Hibernia magazine as "a rabid republican cum architect cum town planner of definite convictions cum determined preservationist and exposer of shady planning applications."
Preserving Georgian Dublin with the MacEoins
The Irish Times warned its readers at Christmas 1959 that it was becoming increasingly clear that, "the days of Dublin's Georgian heritage are numbered", but MacEoin and other preservationists and activists fought bravely. There were victories, but more often defeats; in 1964, MacEoin was one of those to sign a letter to the Taoiseach deploring the plans to gut Georgian houses for the Electricity Supply Board premises near Merrion Square. Shortly afterwards, a journalist joked that MacEoin had, "acquired the reputation of being a consistently Angry Young Man", though at least, "his thunderbolts are aimed in all the right directions."
Together with his wife Margaret, who shared his passion for preservation, MacEoin took the necessary steps to save whatever they could of Georgian Dublin themselves. Establishing the company Luke Gardiner Ltd., named in honour of the great eighteenth century developer of northside Dublin, they purchased homes on Henrietta Street and Mountjoy Square.
His son Ruadhán recalled, "My parents put what little money they had into buying houses in the north Georgian quarter." Numbers 5 to 7 Henrietta Street were purchased by MacEoin in the early 1970s, and he wasted no time in renaming one of the homes "James Bryson House", in honour of an IRA Volunteer who had died on active service a few short years earlier. Today, the plaque remains upon the home.
James Bryson was a high profile IRA Volunteer, who escaped from custody at the Crumlin Road courthouse in Belfast in February 1973, aged just 24. He was shot dead in August. Less than a year later, MacEoin had renamed this Henrietta Street house in his honour, a decision which raised a few eyebrows in Dublin.
James Bryson House and its neighbours
The efforts of the MacEoin family to save what they could of the street must be seen in the broader context of what was happening on Henrietta Street. The Casey family acquired 13 Henrietta Street in 1974, while on the other side of 14 Henrietta Street, Na Piobairi Uilleann - a society dedicated to the celebration of Ireland's ancient uileann pipes - brought new life to the streets earlier still.
Beyond his contribution saving the buildings of Georgian Dublin, MacEoin produced a number of important histories of the Irish republican movement, including the groundbreaking oral history collection Survivors, in which he interviewed veterans of the revolutionary period. Some of MacEoin's important oral history work is now available online for free, thanks to Military Archives.
---
Donal Fallon is a historian, broadcaster and curator from Dublin. Formerly Historian in Residence to Dublin City Council, he is the author of numerous studies of twentieth century Dublin, including The Pillar: The Life and Afterlife of the Nelson Pillar (New Island, 2013). He produces the Three Castles Burning podcast and has contributed to publications including Jacobin, Dublin Historical Review, Saothar and The Irish Times. He is a graduate of Maynooth University, University College Dublin and the Ulster University, and lectures with the Lifelong Learning department of University College Dublin.