Call for Panel of Tour Guides
News
Published 08 November 2019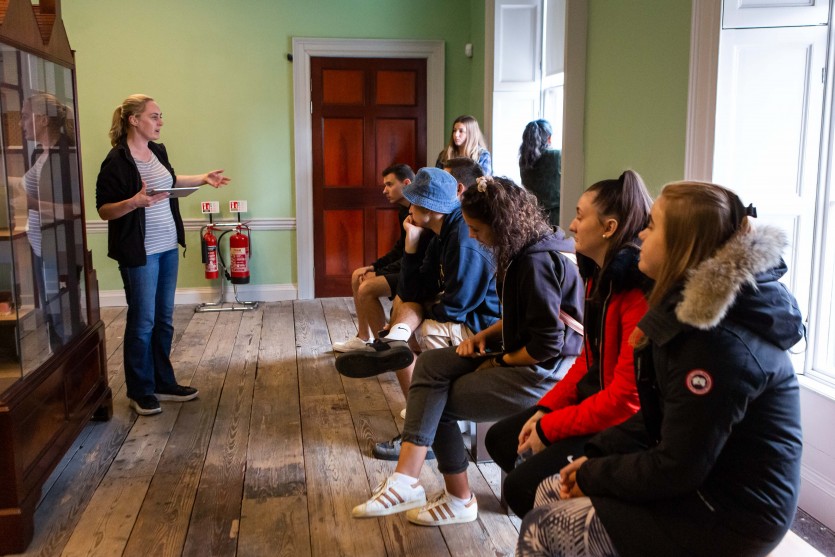 Join our team
Dublin City Council Culture Company are looking for warm individuals who have a passion for storytelling and culture, who can bring history and stories to life, to work with us to build and enrich the visitor experience at a number of sites across the city.
We are seeking to recruit additional members to our panel of tour guides. We currently run and operate tours at 14 Henrietta Street and will soon also be running tours at Richmond Barracks. The panel will consist of part-time paid-positions and function across both sites. The ideal candidates will come from a diverse range of backgrounds in terms of their academic, professional and life experiences. All will share a love of Dublin city, community, and history.
If you like the idea of helping our visitors to feel a sense of connection with the stories of Dublin, we want to hear from you. Come join our team, the details of how to apply are included below, and you can download a full role description here. 
Application details
Applications should include a full CV and a cover letter, outlining why you are suitable for this role and describe how your skills, knowledge and experience match the role and person specification.
Completed applications should be sent by email only to recruitment@dublincitycouncilculturecompany.ie with "Guide Application" in the subject line. Applications received after the closing date and time will not be accepted.
CLOSING DATE FOR THIS APPLICATION IS THURSDAY 28TH NOVEMBER 2019
Shortlisted applicants will be notified the week of the 1st December 2019.
Shortlisted applicants will need to be available to attend interviews at 14 Henrietta Street on Tuesday 17th or Wednesday 18th December.
Garda vetting is mandatory for successful applicants, and you must be cleared by the National Vetting Bureau before we can provide shifts.
Successful applicants will also be offered Child Protection and Disability Equality Training.
It will not be possible to provide application process feedback to unsuccessful applicants.
Please note that Dublin City Council Culture Company is committed to developing policies and practices ensuring that accessibility, Universal Design and reasonable accommodation for people with disabilities are taken into account.
DOWNLOAD THE FULL ROLE DESCRIPTION HERE
What we do
Through 14 Henrietta Street and soon at Richmond Barracks our visitor experience teams aims are to:
Share and tell stories by retelling the story of the lives of the people.
Engage and make connections by listening and talking with visitors, citizens, historians, local residents, former residents and their families.
Discover and uncover history by continuing to learn from the memories and knowledge of others.
14 Henrietta Street and Richmond Barracks are owned and conserved by Dublin City Council. Dublin City Council Culture Company has operated 14 Henrietta Street since it opened to the public in September 2018 and will soon also operate tours at Richmond Barracks.
We want our tour guides to bring to life the stories of the people who passed through both buildings, their changing circumstances, their experience of family life, of politics, and the impact of national and world affairs. By listening and talking with visitors, historians, local residents and their families and through the knowledge of others, we will continue to discover new stories, gather memories and add to our collections to enhance the visitor experience.
You can read more about 14 Henrietta Street here. 
You can read more about Richmond Barracks here.
More about Dublin City Council Culture Company
Dublin City Council Culture Company is an equal opportunity employer. For more information on our Equal Opportunities Policy, please see here.
Please note that 14 Henrietta Street the museum is Part M access compliant, and the offices of Dublin City Council Culture Company have limited physical access. Reasonable accommodation of access requirements will be made for successful applicants.
Interviews will take place in an accessible location. We are committed to respecting and protecting your privacy. We keep several kinds of personal data about our prospective employees so we can manage the recruitment process effectively and efficiently and meet our legal obligations. More more information please see our Privacy Notice for Job Applicants here.