Henrietta House and Herbert Simms
Stories
Published 04 June 2020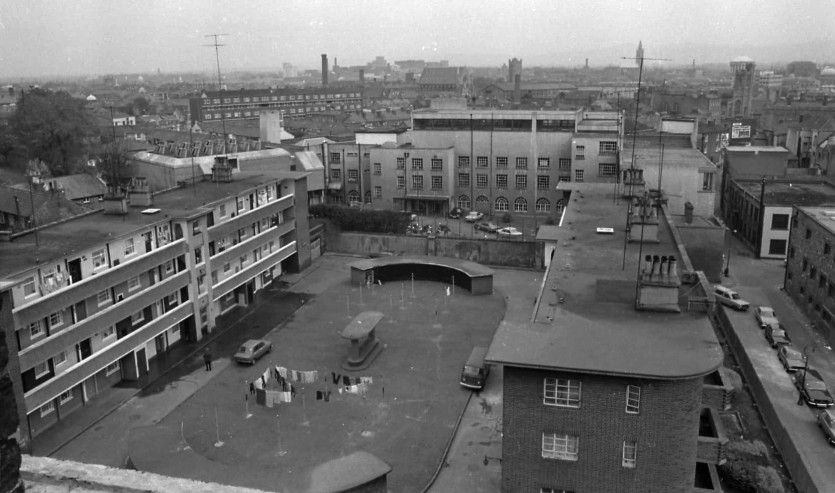 Henrietta House and Herbert Simms
14 Henrietta Street is delighted to welcome historian Donal Fallon to write a series of blog posts about the building and it's rich and varied history.
Today, Donal considers one of our neighbours, Henrietta House.
The tour of 14 Henrietta Street is neither a tour of a Georgian townhouse nor a tour of a Victorian tenement, rather it encompasses the layers of history and the complexity of the house and its surrounding environment, looking at how housing has changed in Dublin through recent centuries. From the rear windows of the house, you can see the real change of twentieth century Dublin housing before your eyes with Henrietta House, a public housing scheme built in the second half of the 1930s.
Herbert Simms
From 1932 until his death in 1948, Herbert George Simms served as Housing Architect to Dublin Corporation. He was the first Housing Architect for the capital, and his work is still to be seen on both sides of the Liffey today. Simms was responsible for much of Dublin's new 1930s suburbia - Cabra on the northside and Crumlin/Kimmage on the southside - but also believed in the necessity to build good quality public housing in the city centre.
His projects in the city are immediately recognisable, the beautiful curves of the buildings, and their decorative features, showing strong Art Deco influences. Simms was greatly influenced by public housing of the day in Dutch cities like Amsterdam and Rotterdam, but also by the best of what was happening on the neighbouring island.
Henrietta House
Henrietta House consists of detached four-storey blocks of flats, facing a communal central courtyard. Community was at the heart of much of his public housing design. Speaking in 1935, Simms outlined his belief that "you cannot re-house a population of 15,000 people, as in the Crumlin scheme, without providing for the other necessities and amenities of life." The area around Henrietta Street, encompassing Henrietta Place and Henrietta Lane, had been home to significant tenement sprawl, and was identified in numerous housing reports as an area requiring urgent attention. Gone were crowded tenements and makeshift homes, replaced by the clean elegance of Henrietta House.
Legacy
In recent years, there has been enormous public interest in Simms, including a two-day history symposium and walking and cycling tours of the city exploring his work. If you want to walk Dublin and see Simms work, what should you look out for? Particularly popular is the Chancery House scheme beside the Four Courts, completed by June 1935. Though comprising just twenty-seven flats, it is considered a master class in public housing, and boasts a beautiful small garden, an important communal feature. Simms told a Housing Inquiry that he firmly believed the homes he was constructing would outlast the slum dwellings they were replacing. To him, '"lats should last at least 200 years... providing they were properly maintained."
The retirement of the City Architect, Horace O'Rourke, in 1945 left a greatly increased workload for Simms, who found himself essentially occupying the office of both Housing and City Architect. Simms was certainly overworked, to such an extent that in September 1948 he took his own life. In a fine tribute shortly afterwards, the City Surveyor Ernest Taylor remembered him as a man who had done much for the poorest in Dublin:
"By sheer hard work and conscientious devotion to duty, he has made a personal contribution towards the solution of Dublin's housing problem, probably unequalled by anyone in our time… It is not given to many of us to achieve so much in the space of a short lifetime for the benefit of our fellow men."
What are your thoughts on the Herbert Simms buildings?
Do you live in a Herbert Simms building, or have a favourite one around town? We'd love to hear about it - let us know on our social media channels or by emailing us at memories@14henriettastreet.ie 
If you'd prefer, you can even give us a call on +353 1 524 0383.
---
 Donal Fallon is a historian, broadcaster and curator from Dublin. Formerly Historian in Residence to Dublin City Council, he is the author of numerous studies of twentieth century Dublin, including The Pillar: The Life and Afterlife of the Nelson Pillar (New Island, 2013). He produces the Three Castles Burning podcast and has contributed to publications including Jacobin, Dublin Historical Review, Saothar and The Irish Times. He is a graduate of Maynooth University, University College Dublin and the Ulster University, and lectures with the Lifelong Learning department of University College Dublin.
---
Image Credit: Dublin City Public Libraries photo of Henrietta House, 1980s.