Lily Butterworth (née Dowling)
News
Stories
Published 19 February 2020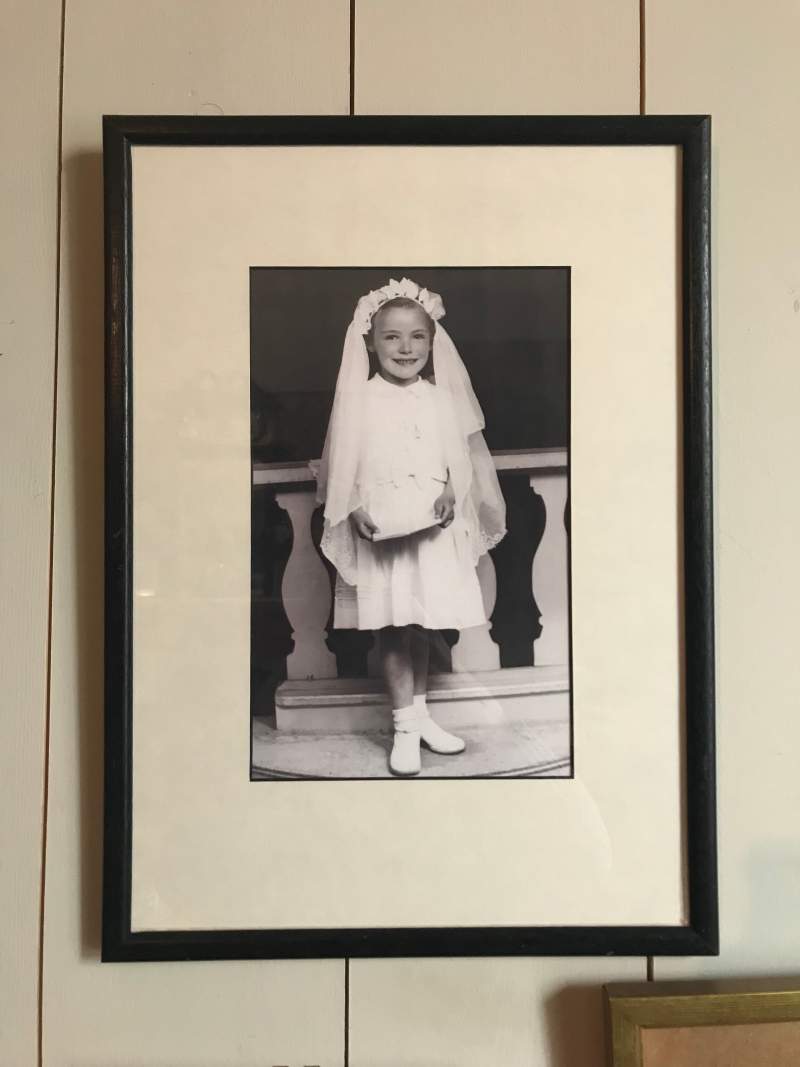 There is a room in 14 Henrietta Street called Mrs. Dowling's room.
It's the last room on the tour and it's not uncommon to hear in the chatter as groups slowly begin to leave it, how it's their favourite room.
Mrs. Dowling's room is not a room at all but it's a whole flat, as it would have appeared in the 1960s. It has a sewing machine and a piano, holy pictures, blue and white striped cups, curtains dividing the room, familiar bits and pieces, good wallpaper and lino floors. It feels homely and full.
There are family photos and among them is one of a girl in her communion outfit. That girl was Lily Dowling, and along with her brothers Peter and Joseph and her parents George and Elizabeth (Lizzy), they were one of the last families to reside in 14 Henrietta Street.
Lily's son Trevor Butterworth and Joseph's daughter, Linda Dowling, have donated objects to the museum which originally came from the family home at 14 Henrietta Street which significantly informed the shape the museum took.
Lily passed away on February 14th 2020.
Lily made her First Communion in or around the year after her father died. Her son Trevor recalled how it was a defining moment in her life. To comfort her in the weeks after his death, her uncle gave her a doll which now sits on the top shelf of the china cabinet in the museum.
Trevor: The doll was a symbol of childhood that she kept going back to throughout her life. It occupied a pride of place. As she slid into dementia she wanted my friend to take it for his daughter. So there is something extremely poignant about the fact that the doll is going back home.
Lily was a keen dressmaker and bookkeeper. She would have liked to continue her education at Georges Hill School but on the encouragement of her mother, left at 13 to get a job, first in a printers.
Trevor: She showed up on her own for a job advertised in a local printers that was run by two Jewish men and what she noted was that every other child there was accompanied by their parents and she was the only one there on her own. The printers gave her maths to do in her head and she was very good at doing that and she got the job. And it gave her an immense sense of pride to have beat out all these other kids.
After that she worked in Wills Cigarettes and at age 15, she met the boy who would become her husband there, Frederick Butterworth. After they married in the sixties, they had one son, Trevor, and moved to Santry.
Trevor recalls how family holidays were always a big thing, and he remembers going to visit Lily's brothers Joe and Peter in London in the seventies, and spending time with his cousins.
In more recent years, as she began to decline with Alzheimer's, Lily could still remember some of her childhood in Henrietta Street. We are very grateful that Trevor, Linda and the Dowling family have trusted us with their family memories and artefacts and feel privileged that Lily and all the Dowling family's history is such an integral part of the experience at 14 Henrietta Street.
All at 14 Henrietta Street are greatly indebted to Lily Dowling and deeply saddened to hear of her passing. We extend our condolences to her son, niece and nephew, grandnieces, relatives, and friends.