September Teatime Talk with the Festival of History: From Townhouse to Tenement, with Dr Tim Murtagh and Ciarán Wallace
Teatime Talks
Published 22 August 2021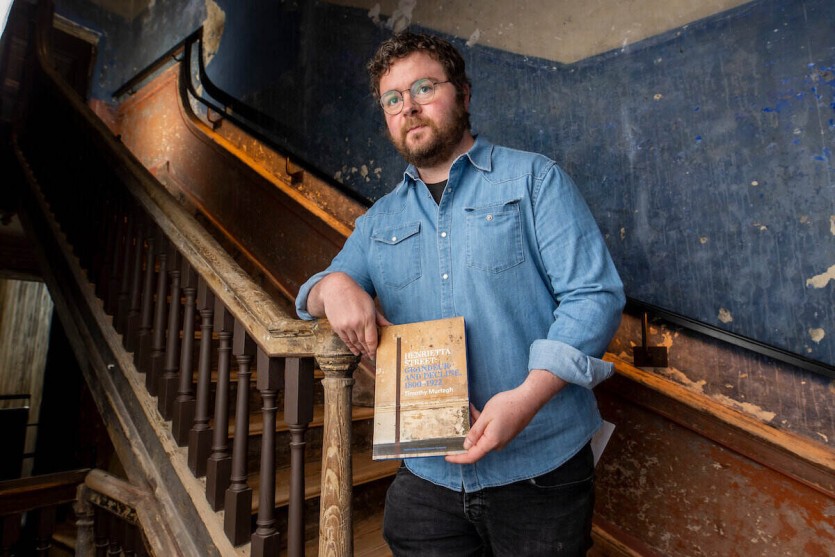 Teatime Talk: From Townhouse to Tenement, with Dr Tim Murtagh and Ciarán Wallace
When: Wednesday 29 September at 7pm
Where: Online via Zoom
In his new book, Henrietta Street: Grandeur and Decline, Dr. Tim Murtagh tells the story of Henrietta Street over the period 1800 to 1914, commencing with the Act of Union and and finding on the eve of the Irish Civil War. Join Dr. Tim Murtagh, in conversation with Dr. Ciarán Wallace for this special Teatime Talk, part of The Dublin Festival of History as they discuss the book and use the story of one street to explore the history of an entire city.
---
Dr. Tim Murtagh
Timothy Murtagh completed his PhD at TCD in 2015. His doctoral thesis was on Dublin's working-class radicals in the eighteenth century. He is the author of "Spectral Mansions, The Birth of a Dublin Tenement' (Four Courts Press) and several articles and book chapters on Dublin's social history and the origins of Irish republicanism. From 2015 to 2016, he was the Irish Government Senior Scholar to Hertford College, Oxford. He is currently a research fellow with the Beyond 2022 project, based in the Public Records Office of Northern Ireland (PRONI) in Belfast. Since 2015, he has acted as a historical consultant to the 14 Henrietta Street museum, as well as being a committee member of the Dublin Historical Research Network.
Dr. Ciarán Wallace
Dr. Ciarán Wallace is Deputy Director of Beyond 2022. Having completed his PhD on early 20th-century Dublin, he lectured in Modern Irish History at Trinity College Dublin, Dublin City University and Liverpool John Moore's University. Ciarán has published on the social and political history of Dublin and is a convenor of the Dublin History Research Network.
---
Read the books
14 Henrietta Street presents a series of historical publications which expand on, and uncover the lives of the people who lived at 14 Henrietta Street and the surrounding areas.
---
Teatime Talks
Teatime Talks is a series of talks inspired by the history, people and surroundings of 14 Henrietta Street. Do you have a memory of Dublin's tenements or know someone who does? Whatever your connection, we would like to hear from you.