Teatime Talks: The Lost Tenement Plays of O' Casey's Dublin
News
Teatime Talks
Published 27 October 2022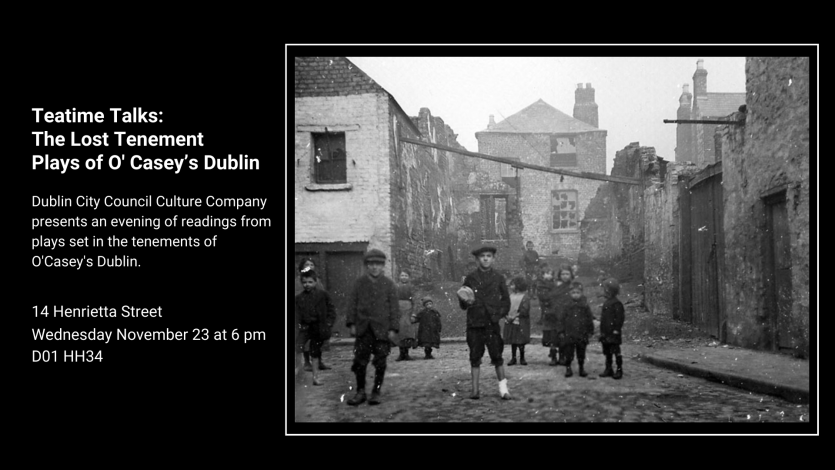 14 Henrietta Street presents Teatime Talks, a series of talks inspired by the history and people of 14 Henrietta Street.
The Lost Tenement Plays of O'Casey's Dublin, Dublin City Council Culture Company presents an evening of readings from plays set in the tenements of O'Casey's Dublin.
These plays are, in order of appearance:
Victims (1912) Frederick Ryan, Andrew Patrick Wilson,
The Laying of the Foundations (1902) Oliver St John Gogarty (co-written with Joseph O'Connor)
Blight: The Tragedy of Dublin (1917) Andrew Patrick Wilson
The Slough (1914) Sean O'Casey
Nannie's Night Out (1924)
Cast list:
1. Derbhle Crotty
2. Julie Crowe
3. Emmet Farrell
4. Matthew Malone
5. Janet Moran
6. Eimear Mullen-Frew
7. Gary Murphy
8. John Olohan
9. David Rawle
This 90-minute event, comprising extracts from these plays, includes a neglected play of O'Casey's. It brings together nine actors under the guidance of Thomas Conway, who has made tonight's selection and who will offer background details on the plays as continuity between the extracts. It promises to be an evening full of surprises that will offer new perspectives on early 20th century tenement lives and on the tradition of playwriting that precedes O'Casey's—who then sets an example for representing tenement lives that playwrights around the world were soon to follow.
These plays not only illuminate the lives of tenement tenants, they detail the corruption that allowed the tenements to fall into the deplorable conditions that made them just so dangerous to live in.
These plays highlight the conditions that gave rise to the 1913 Lockout and what it was like to live through it. They feature a lightly fictionalised portrait of the leader of that struggle, Jim Larkin, and of the struggle that came soon after, James Connolly. The resonances with Dublin's present-day housing crisis is not the least of the reasons to revisit these plays today.
---
If you have any queries please don't hesitate to contact us on +353 1 524 0383 or email us at info@14henriettastreet.ie