Turais Scoile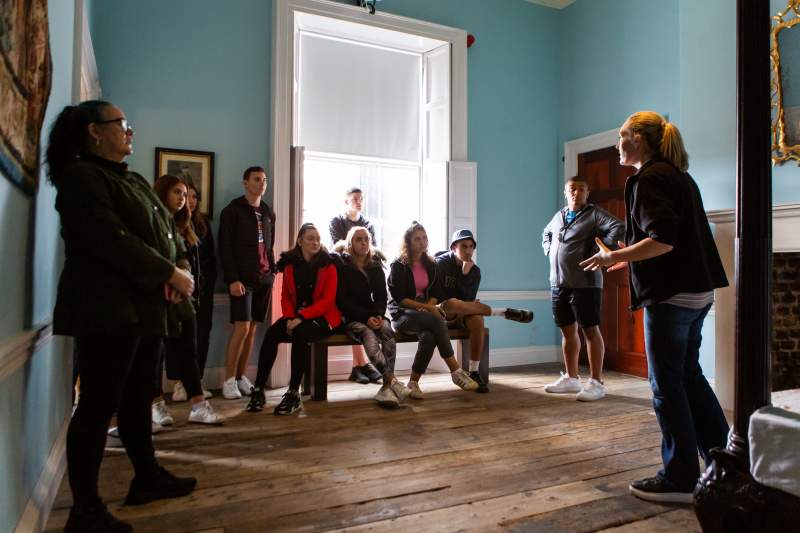 14 Henrietta Street captures over 300 years of Dublin's history within the walls of one address. School tours bring students on an exciting journey through the house from its grand Georgian beginnings to the tenement dwellings of its later years.
Students can see the house, hear its stories and discover the layers of Dublin history within its walls. Interactive tours are designed to connect with the school curriculum and engage the imagination of your class.
Each visit lasts an hour, and is fully facilitated by a tour guide. Guides and staff have undertaken the relevant health and safety training and the museum has received the Fáilte Ireland Covid-19 Safety Charter Accreditation.
Schools resources
14 Henrietta Street offers free online resources for primary and secondary school teachers which have been designed to be flexible and adaptable for all levels and age groups. They can be used in the classroom or at home, and as an extra learning resource before or after a school visit to 14 Henrietta Street. The resources provide an integrated exploration of the curriculum, using history as a starting point. You can find the schools resources here.
Book your school tour
Primary school tours are €5 per student, while secondary school tours cost €6 per student.
Accompanying teachers go free.
We must have at least one Teacher or Adult supervising students at all times and students must not be left alone in the museum at any time.
To book a school tour or find out more, email info@14henriettastreet.ie or call 01 524 0383.
"It really brought the human side of history alive for us ..."
School Tour Visitor to 14 Henrietta Street
Last updated: 06/06/2023