Junior Cycle Teacher Resources
Introduction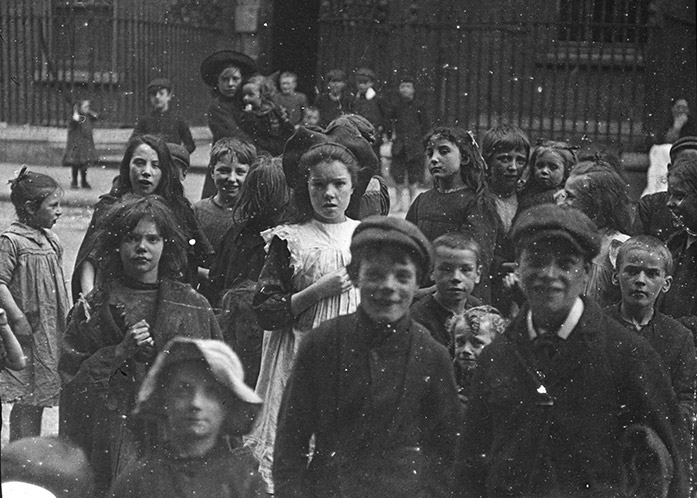 14 Henrietta Street is a social history museum of Dublin life, from one building's Georgian beginnings to its tenement times. We connect the history of urban life over 300 years to the stories of the people who called this place home.
This resource pack is for history teachers who wish to bring their Junior Cycle students on a visit to 14 Henrietta Street. The aim of this pack is to provide you with a toolkit of case studies, suggested activities, and further resources to help you plan lessons for your Junior Cycle history group.
How this pack links to the Curriculum
This resource pack provides an exploration of various topics on the Junior Cycle history syllabus through the context of 14 Henrietta Street. The pack can be used before or after your visit to 14 Henrietta Street.
Regardless of your topic of study, your group will develop their skills as historians with the tools in this pack. However, there are particularly strong links to the following topics on strands 2 and 3 of the syllabus:
Recognising Key Change
Key changes/ developments in the domains of politics and international relations
Impact of settlement and land ownership on ideas of identity
Role of significant individuals as agents of change
Exploring people, culture and ideas
Impact of new and changing ideas about how people should live and be governed
Impact of such factors as population change, migration, famine, genocide on the lives of ordinary people
How women's lives changed over time
Applying historical thinking
Connections between people, events and places in the past
Sense of historical empathy in exploring people in the past
Local, personal or family history
Identifying patterns or trends of change over time
Concepts such as culture and civilisation and power and authority
The topics covered in this pack are drawn together by a focus on strand 1 of the syllabus: 'the nature of history'.