Primary Schools Teacher Resources
Examining evidence
What were games like in the past? Here are some examples of evidence that give you clues about play and games in the tenements:
Oral histories
Oral histories are recordings of people talking about something they remember. In these recordings, children from the Hardwicke Street Community Centre in Dublin ask Peter Brannigan, who grew up in 14 Henrietta Street, about what play was like in the tenements when he was a child:
"What did you used to play?"
"What were the toys like?"
"What time did you come inside?"
Oral histories can be videos as well. Here are some more people who grew up in Henrietta Street talking about their memories of childhood:
Tenement songs and rhymes
Songs and rhymes were popular with children in the tenements. Here are some recordings of children today singing some songs from tenement times:
A Sailor went to Sea, Sea, Sea
Bluebells, Cockle Shells
1, 2, 3, My Mother caught a Flea
Toys
Many children in the tenements made their own toys. This skill often stayed with them for life. Here is a trolley made by a man called Leo, who grew up in a tenement on Wood Quay, on the south side of the River Liffey.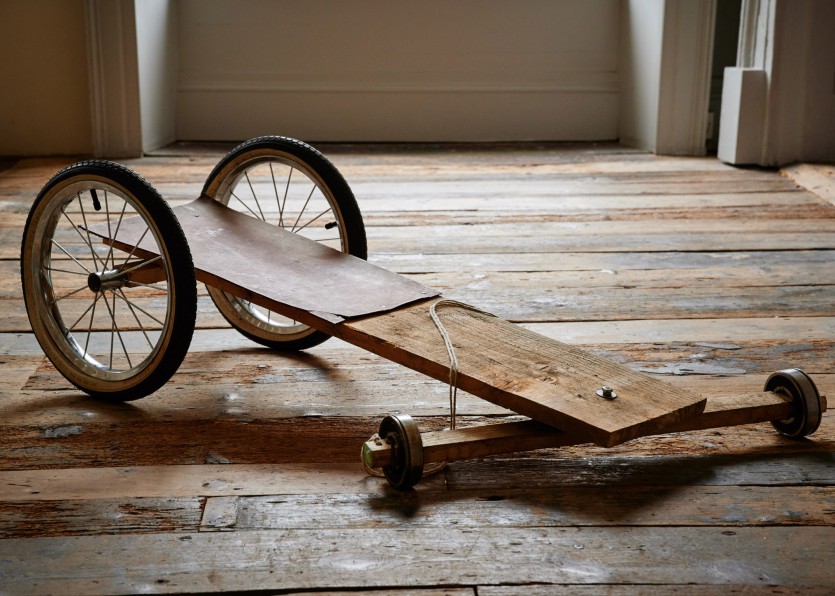 As a class, talk about these different pieces of evidence:
What do they tell us about games, play, and growing up in tenement times?
What are the similarities and differences between then and now?
(For 5th-6th class) Which of these are primary and which are secondary sources? Why do you think that?